The Women In Trucking Foundation announced today a scholarship opportunity, which is awarded in four categories: Leadership, Safety Professional, Technical Skill, and Professional Driver.  Applicants can submit a request for funding online at www.WomenInTruckingFoundation.org from July 1 – July 31, 2015. Scholarship winners will be announced in August and funds will be sent to the educational facility on behalf of the grant recipient.
As a member of the Women In Trucking Association, TrucBrush Corporation continues to support the organization.  Vice President, Debora Katz, also serves on the Women In Trucking Foundation Board.
"Financial aid for education isn't always easy to find. Our scholarships may make a difference in the recipient's taking or not taking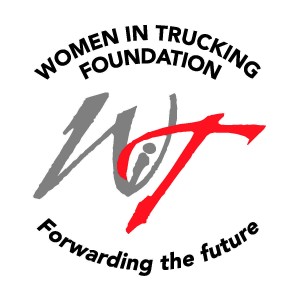 that course, purchasing the necessary equipment/supplies, or getting that certificate or degree," said Foundation chair Jan Hamblin of J.J. Keller.  "We want to "Forward the future" by awarding scholarships to eligible individuals."
The foundation supports the Mission of Women In Trucking Association to encourage careers in trucking and the scholarship grants will assist members in this way. Donations are still being solicited to continue to offer educational funding in the future.
Women In Trucking was established to encourage the employment of women in the trucking, including TrucBrush Corporation, and the generosity of Gold Level Partners: Bendix Commercial Vehicle Systems, Great Dane Trailers, Freightliner, Walmart, G E Capital Transportation Finance, J B Hunt, Ryder, and U.S. Express. For more information, visit www.WomenInTrucking.org or call 888-464-9482.