WARRANTY AND PRODUCT REGISTRATION

A Warranty Registration Form must be submitted online to make warranty effective.
Warranty Start Date:
A customer has 15 days to register online once their product is received or the warranty will backdate to the shipment date from the factory. If more than 12 months have passed when we receive the warranty form submission, then we will notify the customer that the warranty period has expired.
All claims must be submitted using the proper form and emailed to warranty@TrucBrush.com
To be eligible for warranty payment the product must be registered with TrucBrush via www.trucbrush.com/warranty-registration
TrucBrush Corporation reserves the right to decline any claim that does not meet above requirements. Pre-Approval Required Prior To ANY Work Being Performed.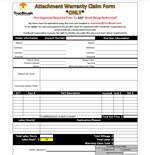 Form Warranty Claim Form (click to download pdf)
Warranty Terms (click to download pdf)