Back in 2019, I wrote a blog called Crystal Ball (https://trucbrush.com/crystal-ball/) about winter weather forecasting and the accuracy of those who predict winter forecasts.  Now that February 2021 is behind us,  I thought we would look at this season's actual snowfall and ice events compared to predictions.  How did the forecasters do? What impact did it have on the transportation industry and demand for the TrucBrush solution, a fast, effective attachment to clear snow from the tops of trailer, truck and bus rooftops?
While the publishers of the Farmers' Almanac have historically boosted an 80 to 85% accuracy level in weather predictions, scientific studies of the much loved publication support a 50% accuracy rating, I told our readers back in 2019.  This year, the Farmers' Almanac all but nailed their winter forecast.  Expect "cold and snowy in the North, drought in the West and everything crazy in between!," the publishers said of the upcoming 2020-2021 winter season they dumbed, "the Snowy Comeback."  They predicted considerable snow from the Mid-Atlantic to the Northeast for February and that the Great Lakes region would get their share of snow. "Expect above-normal snowfall if you live in the western Dakotas, northern portions of Colorado and Utah, as well as, Wyoming, Montana, Idaho, and eastern sections of Washington and Oregon," they said. Roger that.  When we look back on actual events to date, by February 17th2021, the U.S. National Weather Service reported that 71.3 percent of our country was blanketed in snow, up 31.2 percent from the previous month.  [see map from NOAA]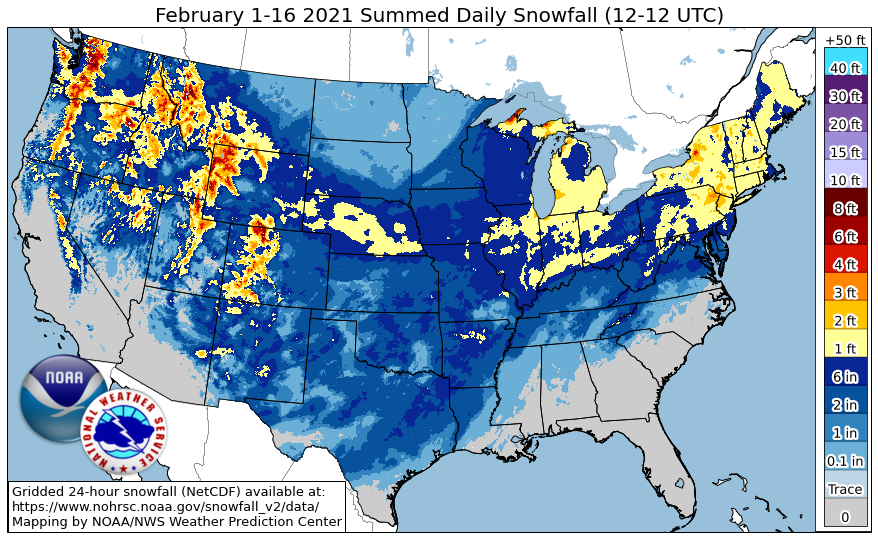 Sleet mix and ice proved a major nuisance this winter season too.  Those in Kentucky saw one system dump up to a half-inch of ice over parts of the state and an overnight storm on February 15th brought even more ice and several inches of snow across most of the state. 
"Ice is not nice," says Mike Mason, a Certified Snow Professional with the national association SIMA and President of The LawnPro, a Kentucky based landscape and snow management company.  "The challenge this year with Kentucky's February storm was the onset of ice followed by several inches of snow.  This was increasingly difficult because of the duration.  The systems kept coming and coming over a two week period where temps never got above freezing.  In a market where we normally get a system followed by a warm period and a break, our crews were tested in a way they haven't been tested in several years.  In fact, we saw an entire season's worth of snow in just this two week period, however, thanks to the multiple resources we had available to us through our Snow and Ice Management Association involvement, our crews performed like champions."  
Meteorologist Dustin Jordan of the National Weather Service in Jackson, KY, describes the Kentucky storms as "mixed precipitation" events causing both ice and snow because of a "warm nose", which is a wedge of above freezing air that settles above subfreezing temperatures at the surface.  "This air corrupts any snow that falls through it, changing it to rain. We're looking at more ice than snow in a lot of places, and the reason that is because it's just so cold at the surface, but aloft, you're actually keeping it in a liquid form," he adds.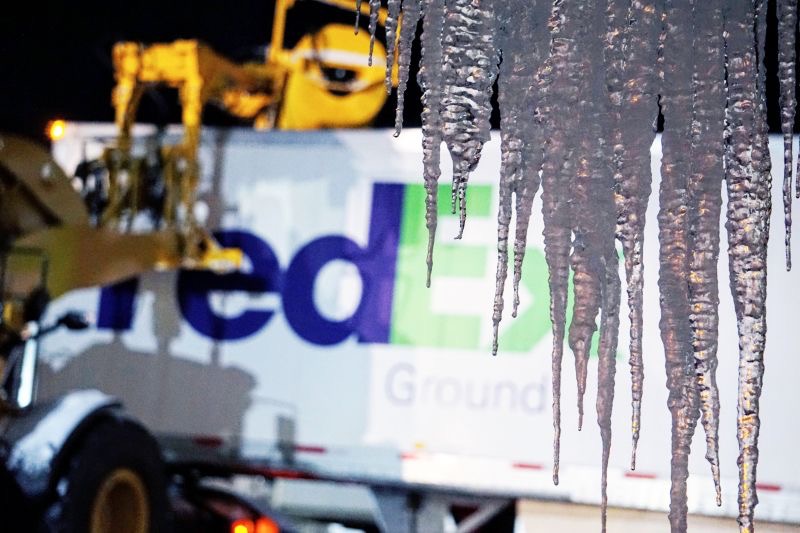 Sleet and ice events occurred in other parts of the country besides Kentucky.  Pennsylvania based Evercor Facility Management who services large distribution centers for both ground snow clearing as well as fleet snow removal faced this challenge head on. "While snow was a constant this season, there were also several significant ice events," says CEO Patrick Kane, "At Evercor, we encourage our clients' to inspect their fleets for snow and ice from top to bottom prior to hitting the road."  The company utilizes TrucBrush to clear snow and ice in seconds from fleet rooftops while his crews remove any ice and snow on the ground level. 
The Almanac also predicted a particularly harsh winter for the Midwest and east to the Ohio Valley and Appalachians. Chicago actually saw more snow in a few weeks than they see in an entire snow season. The city on average experiences about 36 inches of snow in a winter, but in just the 22 days preceding February 16, 2021, the city had seen 36.2 inches of snowfall.
"With so much snow falling in such a short amount of time, we had clients contacting us to perform emergency services with our TrucBrush to clear the snow off trailer rooftops," says Laura Ingram, Director of Operations for Ingram Enterprises, Inc. based in Lincolnshire, IL.  "For one of these clients, a very large distributor in the region, this was also precipitated by the fact that their carriers were refusing to leave with their loads unless their trailers were cleared off," she explains.  Now this client is looking to integrate TrucBrush as part of their regular snow plowing operations next year.  "They see the value in having TrucBrush there for the entire snow season to address the removal of snow and icy debris from their carriers' trailers quickly and safely so there is no delay in shipping their products," she adds.
I should note that the Almanac isn't the only forecaster whose predictions I follow.   My go to resource, Weatherworks, did describe the upcoming season back in October 2020 as: "Frequent clippers and a few larger systems lead to snowier than normal conditions across the Upper Midwest and Great Lakes."  They were a little more conservative on their predictions for the southern states than what actually panned out there, however.  "Due to La Niña, the sub-tropical jet stream is expected to be less active, leading to generally drier than normal weather across the southern U.S.," they said in October of 2020.  Who could have seen in their crystal ball what Winter Storm Uri would bring to the state of Texas with its treacherous ice conditions that left 9.9 million people in the U.S. and northern Mexico in total darkness? It was the largest blackout in the U.S. since the 2003 Northeast blackout.   Damages from these ice driven blackouts are already predicted to be 19 Billion dollars.   
For the transportation industry, this year's snow fall that blanketed most of the United States. became a nightmare for many. After Storm Uri, one head of transportation said it created a 10-day back log for freight for much of the United States. The storm delayed the shipments of about 6 million doses of COVID-19 vaccines in the U.S. leaving UPS, FedEx and Moderna to work through Sunday to package and transport backlogged orders, reported the Wall Street Journal.
"For TrucBrush Corporation, the adverse weather led to significant last minute sales of our product," says CEO Jim Burns.   The company tries to keep a continuous supply of TrucBrush attachments in stock at all times in order to offer a solution that is effective, fast and much safer than manually clearing the roofs of trucks, trailers and buses.  "Of course, the best approach is for companies to plan ahead and order their TrucBrush in the summer to be prepared for their winter season, but we still have companies who wait until the last minute to address the issue," he adds.
What's on the horizon? Farmer's Almanac predicts that "for those living in the eastern half of the country, you may get clobbered during the final week of March 2021, but what falls from the sky will depend on where you live—this storm will track from the nation's midsection to central New England and bring a significant late-season snowfall to the north of its track." Let's see if they are right.