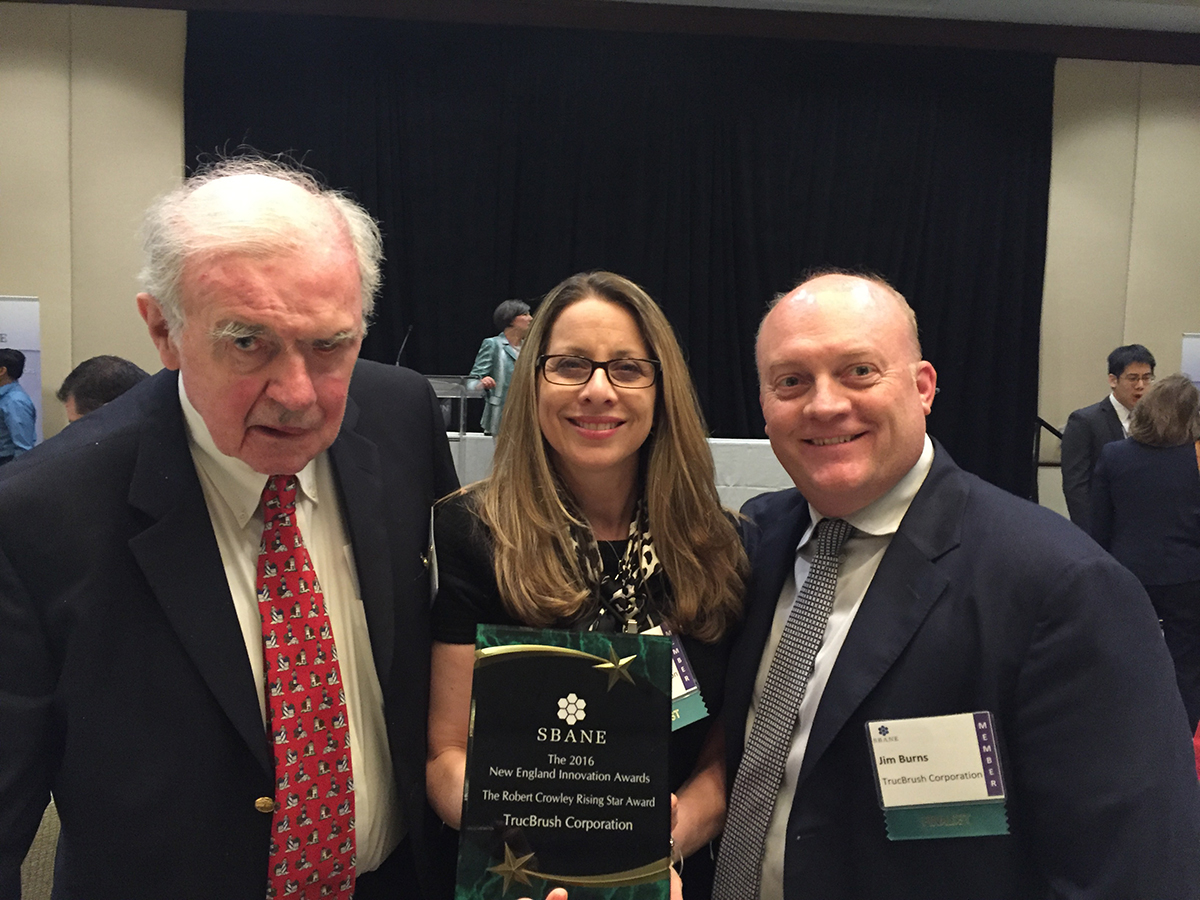 TrucBrush Corporation was one of 188 nominees who were narrowed down to 50 semi-finalists, and then in a second judging to 20 finalists who presented to 66 judges during phase two of the competition. Of the 20 finalists, four winners were chosen in the "Profit" category, two in the "Non-Profit" category and two as 'Rising Stars.'
"We are proud to be among other New England innovators to win this award and we appreciate HarborOne Bank for nominating us," said TrucBrush Vice President Debora Babin Katz, who is also board chair of the Women In Trucking Foundation and chairs the national Snow & Ice Management Association Snow Business magazine editorial advisory committee. TrucBrush clears snow and icy debris in approximately one minute from a tractor-trailer and 30 seconds for a typical box truck. "TrucBrush is quick, easy and very effective. The savings we have gained from significantly reducing down time due to snow clearing has made this investment well worth it," said Jarod Warsofsky of Boston Trailer.
TrucBrush represents an opportunity for many snow service contractors to expand their businesses. "As we continue to push innovation within the snow industry, it has been products like TrucBrush that has helped our organization differentiate itself from others," said TrucBrush customer Mark J. Aquilino, President of Outdoor Pride of NH. "Last year, we were awarded a large airport freight facility snow contract because of our introduction of Trucbrush services. TrucBrush has allowed us the opportunity to gain new clients and offer a new snow service, and we look forward to purchasing more TrucBrush units," he said.
TrucBrush originated as a response to a request by the manager of a large Boston-based airfreight company to find a way to manage the largest snow-related problem in the transportation industry. "He was seeking a solution that was safer than the manual method and did not require significant infrastructure and year-round dedicated facility space to effectively remove snow from the tops of the company's trucks and trailers," said Jim Burns, TrucBrush inventor and President of TrucBrush Corporation.  Former winners of the NE Innovation Award come from varying fields and past winners include notable  companies such as, Ben & Jerry's, Direct Tire, Genzyme, Nantucket Nectars, Staples and Zipcar.
"Innovation is at the heart of economic prosperity and SBANE continues to recognize those companies and organizations that have transformed their innovative ideas into a product or service that delivers proven value to customers," said SBANE NE Innovation Awards Committee Chairman, Todd Faber, President of The Faber Group.  TrucBrush® is manufactured in the United States and sold throughout North America.
—————————————————————————————————————————————————————————————————
TRUCBRUSH CORPORATION TrucBrush Corporation manufactures and sells its patented mobile device TrucBrush®, which effectively clears snow from truck, trailer and bus rooftops in less than a minute. TrucBrush allows companies to meet state transportation regulations and OSHA guidelines. It improves operations with faster fleet deployment and allows snow service vendors to perform TrucBrush services.  Visit TrucBrush at www. TrucBrush.com Twitter: @trucbrush
The Smaller Business Association of New England, Inc. (SBANE), founded in 1938, is a private notfor-profit association of approximately 600 member companies located throughout the six-state region.  SBANE was established to provide a legislative voice for small business at the state and federal levels and to make practical information available to help business owners grow their companies. SBANE runs diverse, educational programs each year and has active chapters in Massachusetts and Rhode Island. The membership is characterized by a high degree of participation, reflected in a large and dynamic committee structure, addressing a range of topics from international trade to human resources. Visit SBANE at www.sbane.org. #SBANEInnovation