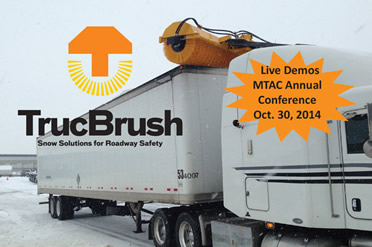 FOR IMMEDIATE RELEASE
TrucBrush Corporation, Inc.
28 Renker Driver
South Easton, MA 02375
Press Contact: Debora Babin Katz, VP,
DIRECT: (781) 254-2366 MAIN TEL: (877) 783-0237 FAX: (508) 230-0909
E-mail: dkatz@trucbrush.com
—————————————————————————————————————————-                                            
MOBILE DEVICE CLEARS SNOW FROM TOPS OF TRUCKS, TRAILERS AND BUSES
DEMONSTRATION AT MTAC TRUCK CONFERENCE
OCT. 24, 2014, BOSTON, MA¾ With expectations of big storm potentials for the Northeast, trucking companies are gearing up for this winter and how to address the issue of accumulated snow on the tops of their fleets.  TrucBrush Corporation has been invited by the Motor Transport Association of Connecticut to demonstrate the TrucBrush, a mobile device that quickly and effectively clears snow from the tops of trucks, trailers and buses, at their annual Truck Conference.   The conference will be held on October 30th from 8:30 to 4:30 p.m. at the Maneeley's Banquet Facility in South Windsor, CT.
"The TrucBrush is a safer, more effective method that removes the need for any driver or employee to be on or near the top of a truck and allows facilities to comply with the new regulations," said Jim Burns, President and CEO of TrucBrush Corporation, Inc.  The state of Connecticut's Act Concerning the Removal of Snow and Ice from Motor Vehicles (Public Act No. 10-182) went into effect on December 31, 2013, which can fine any operator that fails to remove accumulated snow or ice that poses a threat.  Representatives of TrucBrush Corporation will be on hand at the MTAC conference to discuss the TrucBrush and how companies can incorporate this service into their snow management plan.  For more information, contact:  Debora Babin Katz, Vice President, TrucBrush Corporation, TEL: (877) 783-0237, dkatz@trucbrush.com or visit, www.TrucBrush.com.
TRUCBRUSH CORPORATION was founded by a 30-year veteran of the Snow and Ice Management industry to provide snow contractors, facility operators and carriers a safer, faster and effective mobile means to address accumulated snow from truck, trailer and bus rooftops.
Video link showing TrucBrush in action at facility in Boston, MA last winter: http://trucbrush.com/media-gallery/