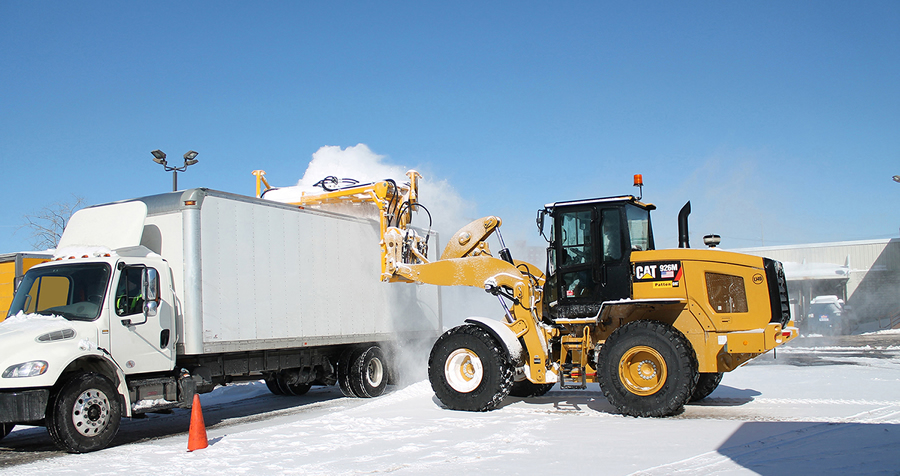 CATERPILLAR OFFERS TRUCBRUSH® TO CLEAR SNOW FROM BUS, TRUCK, TRAILER, INTERMODAL CONTAINER ROOFTOPS
EASTON, MA, MARCH 10, 2017 — A newly patented attachment to clear accumulated snow from truck, trailer and bus rooftops called TrucBrush® is now available through Caterpillar Inc.'s dealer network.  Designed for optimal clearing, the polypropylene-bristled attachment quickly connects to and is powered by a front-end loader.  The mobile method allows snow service vendors and fleet maintenance personnel to quickly, effectively and safely clear snow off multi-heighted vehicles prior to transit.
"We are proud to offer TrucBrush® through Caterpillar Inc.'s distribution channel as they are global leaders in providing solutions to the transportation and snow management industries," said TrucBrush Corporation Vice President Debora Babin Katz, who is also the board chair of the Women In Trucking Foundation and the national Snow & Ice Management Association's Snow Business magazine editorial advisory group.
In 2016, TrucBrush Corporation was recognized for its innovative attachment by the Smaller Business Association of New England with a 'Rising Star' Innovation Award and the Industry Commitment Award from the national Snow & Ice Management Association for outstanding innovation, support and customer service.  TrucBrush® represents an opportunity for snow service contractors to expand their businesses.
"Before we purchased our three TrucBrush® units, there was not one TrucBrush® in New York City. Industry standards are constantly changing, and we want to be at the forefront of the revolution.  But to change, you have to understand your industry, your company and your clients," said Caterpillar/TrucBrush customer Ernest H. Brackett, Business Development Director of Executive Snow Control based in Maspeth, NY.
TrucBrush® originated as a response to a request by the manager of a large Boston-based airfreight company to find a way to manage the largest snow-related problem in the transportation industry.  "He was seeking a solution that was safer than the manual method and did not require significant infrastructure and year-round dedicated facility space to effectively remove snow from the tops of the company's trucks and trailers," said Jim Burns, TrucBrush® inventor and President of TrucBrush Corporation.
TrucBrush® is manufactured in the United States and sold throughout North America. _____________________________________________________________________________________________
About TrucBrush Corporation TrucBrush Corporation manufactures and sells its patented mobile device TrucBrush®, which effectively clears snow from truck, trailer and bus rooftops in less than a minute.  TrucBrush allows companies to meet state transportation regulations and OSHA guidelines.  It improves operations with faster fleet deployment and allows snow service vendors to perform TrucBrush services.  Visit TrucBrush at TrucBrush.com  Twitter: @trucbrush 
About Caterpillar
 For 91 years, Caterpillar Inc. has been making sustainable progress possible and driving positive change on every continent.  Customers turn to Caterpillar to help them develop infrastructure, energy and natural resource assets.  With 2015 sales and revenues of $47.011 billion, Caterpillar is the world's leading manufacturer of construction and mining equipment, diesel and natural gas engines, industrial gas turbines and diesel-electric locomotives.  The company principally operates through its three product segments – Construction Industries, Resource Industries and Energy & Transportation – and also provides financing and related services through its Financial Products segment.  For more information, visit caterpillar.com.